And All the Stars by Andrea K. Höst

Come for the apocalypse.
Stay for cupcakes.
Die for love.
Madeleine Cost is working to become the youngest person ever to win the Archibald Prize for portraiture. Her elusive cousin Tyler is the perfect subject: androgynous, beautiful, and famous. All she needs to do is pin him down for the sittings.
None of her plans factored in the Spires: featureless, impossible, spearing into the hearts of cities across the world – and spraying clouds of sparkling dust into the wind.
Is it an alien invasion? Germ warfare? They are questions everyone on Earth would like answered, but Madeleine has a more immediate problem. At Ground Zero of the Sydney Spire, beneath the collapsed ruin of St James Station, she must make it to the surface before she can hope to find out if the world is ending.
This book contains;
1) Australians - sexy Australians with their fancy accent. I can live in this country forever.
2) ALIENS INVADING SYDNEY!!!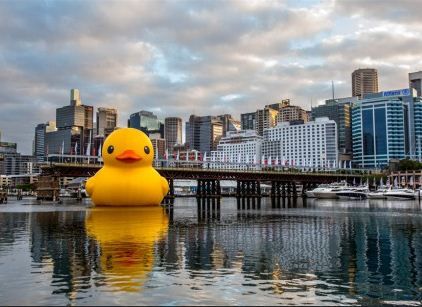 (Totally a legit photo from Sydney Harbor)
READ THE BOOK TO FIND OUT IF THE ALIENS DO TAKE IN A FORM OF GIANT DUCKS.
Anyway, ugh~ It's my first book of 2013 and I already can't rate it. I don't know what's the problem but I haven't had much luck with Aussie reads so far. Stolen by Lucy Christopher is the best yet but still not anywhere close to be among my all-time favorites.
There is something peculiar about Aussie reads which I haven't got accustomed to yet. They are generally odd, different, new, fresh, and thought-provoking. Yet, I find them as difficult to read and I can't really point out what went wrong. It was like my mind went all foggy and I couldn't wait for the book to be over. Worse, for this particular book, my mind kept drifting off to reminisce Supermassive Black Hole music video by Muse (I love this band!) everytime the book mentions about the starry-starry blue stain. I haven't get around to read any Melina Marchetta's and the Eon series, so my it's-not-the-book-it's-me relationship with Aussie reads might change in the near future.
But you better give it a try. A book with a blurb like this;
Come for the apocalypse.
Stay for cupcakes.
Die for love.
IT'S A CRIME NOT TO TRY IT! Hope you'll enjoy it more than I did!
Not sure what to rate
**
The ARC was provided by the author in exchange for an honest review.
View all my reviews