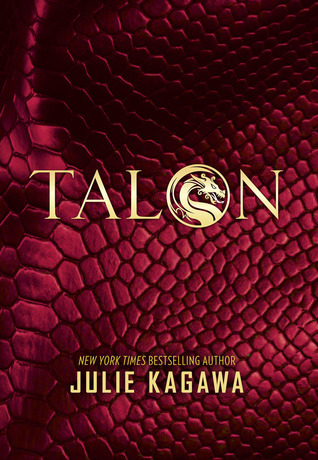 Talon
by
Julie Kagawa
My rating:
2 of 5 stars
Long ago, dragons were hunted to near extinction by the Order of St. George, a legendary society of dragon slayers. Hiding in human form and growing their numbers in secret, the dragons of Talon have become strong and cunning, and they're positioned to take over the world with humans none the wiser.

Ember and Dante Hill are the only sister and brother known to dragonkind. Trained to infiltrate society, Ember wants to live the teen experience and enjoy a summer of freedom before taking her destined place in Talon. But destiny is a matter of perspective, and a rogue dragon will soon challenge everything Ember has been taught. As Ember struggles to accept her future, she and her brother are hunted by the Order of St. George.

Soldier Garret Xavier Sebastian has a mission to seek and destroy all dragons, and Talon's newest recruits in particular. But he cannot kill unless he is certain he has found his prey: and nothing is certain about Ember Hill. Faced with Ember's bravery, confidence and all-too-human desires, Garret begins to question everything that the Order has ingrained in him: and what he might be willing to give up to find the truth about dragons.
Actual rating 1.5 stars.
THE WORST JULIE KAGAWA'S BOOK I'VE EVER READ. And I've read eight of her other books.
I wanted to believe that maybe someone kidnapped her and wrote this book using her name, but when you've read enough Julie Kagawa's, you know it's her when you read the writing...
I still can't believe a book about dragons can be bad. *sigh*
One thing I noticed about Kagawa's writing is she doesn't do contemporary setting well. I didn't enjoy reading about Meghan's and Ethan's life before they enters the fey realm. It was so boring and bland.
Unfortunately this book is pretty much a contemporary with dragons. And I didn't even get enough dragons. There were more about;
1. Siblings fights - am I supposed to care about Dante? He could be replaced with a talking wall and I still couldn't care less.
2. Teenage angst - I honestly thought Ember gets rebellious for the first half of the book for no good reasons.
3. Insta-love - I honestly thought Julie knew better.
4. Love triangle - I HONESTLY THOUGHT JULIE KNEW BETTER. Meghan, Ash and Puck love triangle is a rarity and is dynamic - how could she possibly thought of throwing another love triangle with much, much weaker characters?
5. Surfing - YES, I LIVE IN AUSTRALIA AND YES, READING THIS MUCH ABOUT SURFING WAS NOT ENTERTAINING.
I know I should've DNF-ed it but I couldn't. Because it's a Kagawa book. I read and I read. Hoping that by the end of Part 1 the story would have gone somewhere. Nope. By that point, I was way past halfway mark so I decided to just finish it anyway. And I did. Yes, the story did go somewhere but it was so predictable and formulaic, I even laughed a few times and screamed 'THIS, THIS IS FROM JULIE KAGAWA???'.
Yeah, it wasn't nice.
Two unimpressed faces