The Nightmare Affair by Mindee Arnett
Release date: March 5th, 2013
Publisher: Tor Teens
Goodreads: http://www.goodreads.com/book/show/12411635-the-nightmare-affair
Purchase: Amazon | Book Depository

Description via Goodreads:
16-year-old Dusty Everhart breaks into houses late at night, but not because she's a criminal. No, she's a Nightmare. Literally. Dusty is a magical being who feeds on human dreams.
Being the only Nightmare at Arkwell Academy, a boarding school for magickind, and living in the shadow of her mother's infamy is hard enough. But when Dusty sneaks into Eli Booker's house, things get a whole lot more complicated. He's hot, which means sitting on his chest and invading his dreams couldn't get much more embarrassing. But it does. Eli is dreaming of a murder. The setting is Arkwell.
And then it comes true.
Now Dusty has to follow the clues--both within Eli's dreams and out of them--to stop the killer before more people turn up dead. And before the killer learns what she's up to and marks her as the next target.
My rating:
4 of 5 stars
Words cannot express how sorry I am for being MIA since early this year. My daily routine includes chopping sheep organs and working with radioactive substance for my Honors year. Wish I have more time to hang out here and read more. :(
Anyway, The Midnight Affair was a lovely surprise because I didn't expect to feel this entertained when I was expecting something entirely different from a book. I don't know why but I kept expecting a darker and a more depressing tone of the story even though the cover and the blurb kinda hint that this is more like a chick-lit fantasy YA novel. Probably because my infatuation with lucid dreams LOL!
Initially, although the premise of Nightmare as a person is very refreshing, I couldn't help but to feel like this is another Harry Potter/Hex Hall wannabe. It doesn't help when Dusty, the protag reminds me a lot of Sophie from Hex Hall due to her sassy plus awkward persona. But somehow it worked? I agree the first half was not substantial enough but strangely it didn't deter me from reading more. I was quite entertained with the wide range of species in Arkwell Academy such as the werewolf police, the hag, the siren - they all inject a little something to the story with their distinctive personalities.
The second half was intense LOL! The myth isn't entirely original but the spin put on to it was believable and well-developed. I have a feeling that there were indeed some plot holes, but because the story was so enjoyable at this point, I didn't bother to scrutinize anymore. Yes, it was also predictable but not too predictable, if you get I mean? LOL! You'd know that obviously these guys weren't the bad guys but you're not entirely sure if the good guys were truly the good guys?
Anyway, the ending put aside, Paul is the ultimate swoonworthy guy! I also liked the best friend, Selene, the rebellious siren. I was somewhat entertained by the pranks war between Dusty and Lance. Lance is this scumbag, popular guy who likes to assume the Joker persona. Extra brownie points from me there because I just love the Joker!
So overall, I thought this book wasn't bad at all. It's not spectacular, mind you, but if you're looking for a light read then this fits the bill nicely. :)
**The ARC was provided by Tor Teen in exchange for an honest review.
Me gusta! A four-star!
View all my reviews
About the Author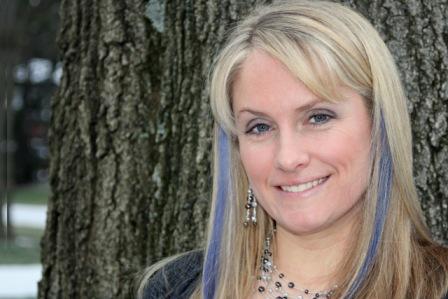 Mindee Arnett lives on a horse farm in Ohio with her husband, two kids, a couple of dogs, and an inappropriate number of cats. She's addicted to jumping horses and telling tales of magic, the macabre, and outer space. She has far more dreams than nightmares.
www.mindeearnett.com twitter.com/mindeearnett
*TWO SIGNED copies will be available for giveaway open to International readers!!