Shatter Me
by
Tahereh Mafi
My rating:
3 of 5 stars
Juliette hasn't touched anyone in exactly 264 days.
The last time she did, it was an accident, but The Reestablishment locked her up for murder. No one knows why Juliette's touch is fatal. As long as she doesn't hurt anyone else, no one really cares. The world is too busy crumbling to pieces to pay attention to a 17-year-old girl. Diseases are destroying the population, food is hard to find, birds don't fly anymore, and the clouds are the wrong color.
The Reestablishment said their way was the only way to fix things, so they threw Juliette in a cell. Now so many people are dead that the survivors are whispering war-- and The Reestablishment has changed its mind. Maybe Juliette is more than a tortured soul stuffed into a poisonous body. Maybe she's exactly what they need right now.
Juliette has to make a choice: Be a weapon. Or be a warrior.


In this electrifying debut, Tahereh Mafi presents a world as riveting as The Hunger Games and a superhero story as thrilling as The X-Men. Full of pulse-pounding romance, intoxicating villainy, and high-stakes choices, Shatter Me is a fresh and original dystopian novel—with a paranormal twist—that will leave readers anxiously awaiting its sequel.
***Minor spoilers alert***
I wanted to like this book.
I wanted to like this book so bad.
The first 50 pages were so epic I almost ready to sacrifice my sleep to finish this book.
His arms are tatted up, half sleeves to his elbows. His eyebrow is missing a ring they must've confiscated. Dark blue eyes dark brown hair sharp jawline strong lean frame. Gorgeous. Dangerous. Terrifying. Horrible.
My heart almost stopped beating. The writing was very refreshing. Well, I found it refreshing anyway. Absence of commas, strokes here and there, multiple adjectives, exact numbers. Some people might find
sentences are not minivans
. Well, this got me laughing till my side cramped.
Juliette was captivating in the beginning. A little bit OCD-ish I must say. I liked how most things worked to unnerve her, she meant to be that way, with what she'd experienced. I liked how she was longing for touch not because she was a pervert but because she meant to be like that. But as the story progressed, she annoyed me so much with her overdramatic thoughts and lust (yes lust!) for Adam and somehow for Warner (euwwwhhh!)
I don't care if Adam and Juliette liked each other since they were 14. If the author intended to make their love sounds super grandiose by narrating their background story like that, all I can say is I don't buy it. They were like...trying to make out whenever they had the chance!
Then, there were some weird scenes such as when Juliette having a mental breakdown when she knew that English language would be banned soon. I was like, did I miss something or Juliette was indeed just a little bit psychotic? Next, when she assumed that Adam betrayed her, she still had her eyes on him...in a loving way. LOL! I don't understand you, woman!
But here comes the most ridiculous ending of all (sorry for the hyperbola)
Juliette did not just have Rogue's power, she got her own superhero suit!
Oh look, Mr Fantastic and Electro did a brief cameo.
Eh, we got Randall from Monster Inc as well!
Want to make a superhero series? Pick some original superpowers, will ya?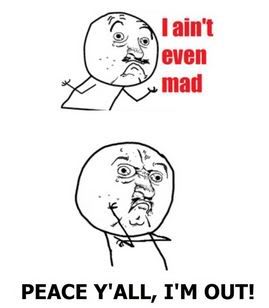 View all my reviews